This Solar Eclipse Glasses Recall From Amazon Affects Several Major Online Sellers
By MADELEINE AGGELER at Bustle.com
Those of you who purchased special solar filters to view the eclipse this afternoon may want to check your email inbox. On Saturday, just two days before millions of Americans are expected to turn out for the Great American Eclipse, Amazon issued a recall of eclipse glasses it fears "may not comply with industry standards."
Although the glasses had the proper ISO number, 12312-2, which indicates they comply with international safety standards, Amazon expressed concern that the glasses might be counterfeit. It is offering full refunds to anyone who bought the affected glasses. In a statement to Oregon's KGW-TV, Amazon said:
"Safety is among our highest priorities. Out of an abundance of caution, we have proactively reached out to customers and provided refunds for eclipse glasses that may not comply with industry standards. We want customers to buy with confidence anytime they make a purchase on Amazon.com and eclipse glasses sold on Amazon.com are required to comply with the relevant ISO standard."
Using ISO-compliant glasses is absolutely essential, since viewing the eclipse without proper solar filters can result in solar retinopathy, a condition that can lead to permanent eye damage.
Some manufacturers are disputing Amazon's claims, and reached out to the online retail giant following the recall.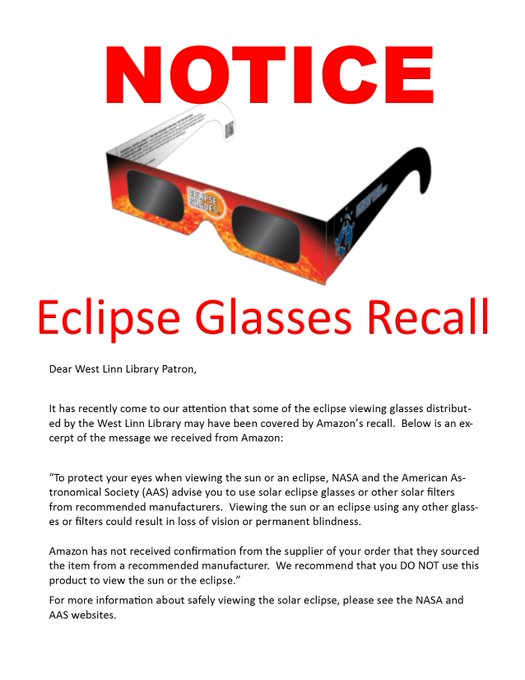 Manish Panjawani of AgenaAstro in Los Angeles
 said his eclipse glasses come from two NASA-approved sellers, and though he provided proof of the products' authenticity to Amazon weeks ago, he received no response, and found his company's glasses on the list of recalled products.
"People have some of the best glasses in the world in their hands right now, and they don't believe in that product," he said. "They're out there looking for something inferior."
For Dr. Rick Fienberg, press secretary of the American Astronomical Society, much of the blame for the confusion lays at Amazon's feet. He claims Amazon created the problem by allowing counterfeit glasses to be sold on their website, and that when they finally did issue a recall, they didn't pay enough attention to which products were legitimate and which weren't.
"The first thing they confused is the good guys and the bad guys," Fienberg said. "I know of longtime manufacturers with genuinely proven ISO certified glasses that were told, 'You can't sell on Amazon anymore.' That's crazy.
Although you can check to see if your glasses are counterfeit by looking up at the sun and seeing if it's "uncomfortably bright" (if it is, your glasses are fake) Fienberg says that's not enough to tell whether your glasses are 
truly safe for viewing the eclipse
.
"A lot of these glasses, when you look through them, the sun looks just fine. But you can't tell by just looking whether the filter is safe. The filter has to block not only enough visible light but also UV and infrared radiation to protect your eyes from damage. Infrared radiation can cook your retina."
If you're unsure whether or not your glasses are ISO compliant, err on the side of caution, and try some of these methods for viewing the eclipse without a solar filter.
Unsafe & Defective Products Lawyer Texas
Manufacturers have a responsibility to make safe products and instruct consumers in their proper use.  Lawsuits result when dangerous products cause injuries.  These lawsuits can result from either unsafe products, products that provide inadequate or improper instruction on their use, or products that are not advertised in a manner consistent with the intended use of the product.  Many times a product is modified by a supplier and the end result is a newly defective product.
Dangerous product lawsuits tend to fall into the following categories:
Medical products
Product recalls
Cars/Automotive products
Dangerous toys & products for children
Equipment & tools
Recreational vehicle/ all-terrain vehicles
Contact Giunta Law today if you have been injured by an unsafe product.